Brief
The Faculty Recruitment and Hiring module elucidates the tenure track search process as dictated by California State University, Fullerton's University Policy Statement 210.001. It covers the opportunities and challenges of incorporating high impact equity practices, and provides details for a number of strategic diversity recruitment practices.
The target audience is department search committee members at CSUF. This consists mostly of staff, but also includes faculty and student assistants involved in the hiring process.
As an employee of CSUF in the Office of Diversity, Inclusion, and Equity Programs (DIEP), it was my responsibility to take content from the live sessions and create self-paced digital modules. These modules provide an alternative option for those who prefer to experience content at their own pace rather than in a real-time live session context.
Note: I'm unable to share this module in its entirety (NDA). However, I have permission to share some excerpts on this page to help provide a glimpse into the object, which is now live at California State University, Fullerton.
To learn more about the Office of Diversity, Inclusion, and Equity Programs at CSUF, please visit hr.fullerton.edu/diep
My Role
Design and development of this digital module, from initialization to launch and post-launch maintenance. This involved collaboration with subject matter experts, analyzing content, producing storyboards, and the creation, editing, integration, and accessibility of audio, video, photos, illustrations, quizzes, and activities.
Tools
Articulate Storyline 360, Adobe Photoshop, Adobe Audition, HandBrake
Platform
Desktop, tablet, mobile
Content
Instructions (screenshot)
Screenshot displays the instruction details for the module, as well as the open menu, player controls, and features at the top right.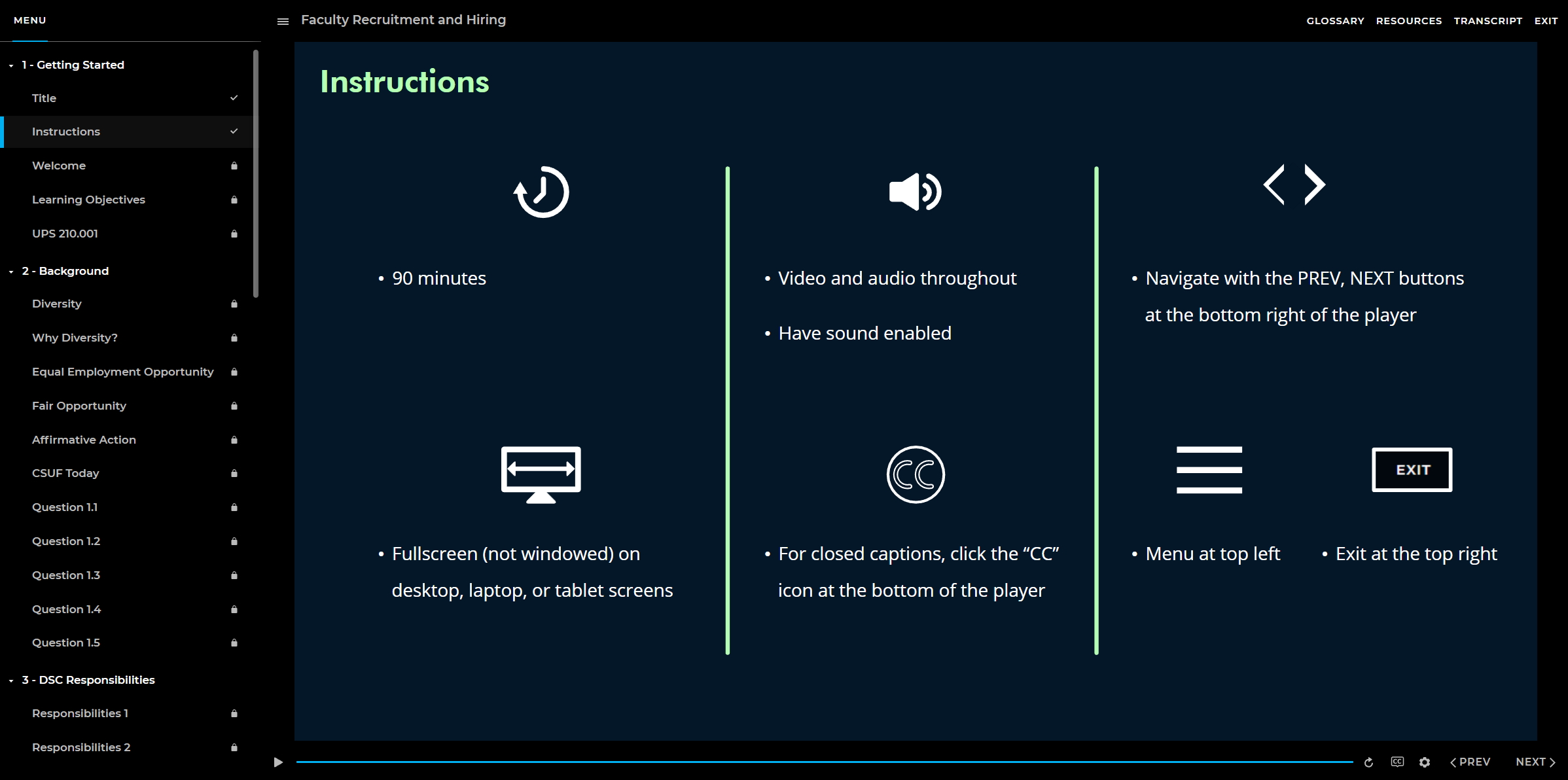 Learning Objectives (video)
These learning objectives display descriptions of what learners will be able to do by the end of the learning activity. Click the start button below to view.
Position Advertising (video)
Writing a thoughtful and inclusive position announcement is one of the most important steps in ensuring a diverse and highly qualified faculty. In this clip, the narrator describes built-in recommended language to get department search committee members started. Click the start button below to view.
Evaluating Criteria (video)
In this clip, the narrator discusses the interview phase of the evaluation process. The use of colorful graphics helps keep the viewer engaged. Mayer's Multimedia Principle states that people learn better from words and images than just words alone. Click the start button below to view.
Quiz Question Example (screenshot)
This module contains formative assessment questions. Each quiz question is meant to assess and reinforce learner's achievement of the learning objectives.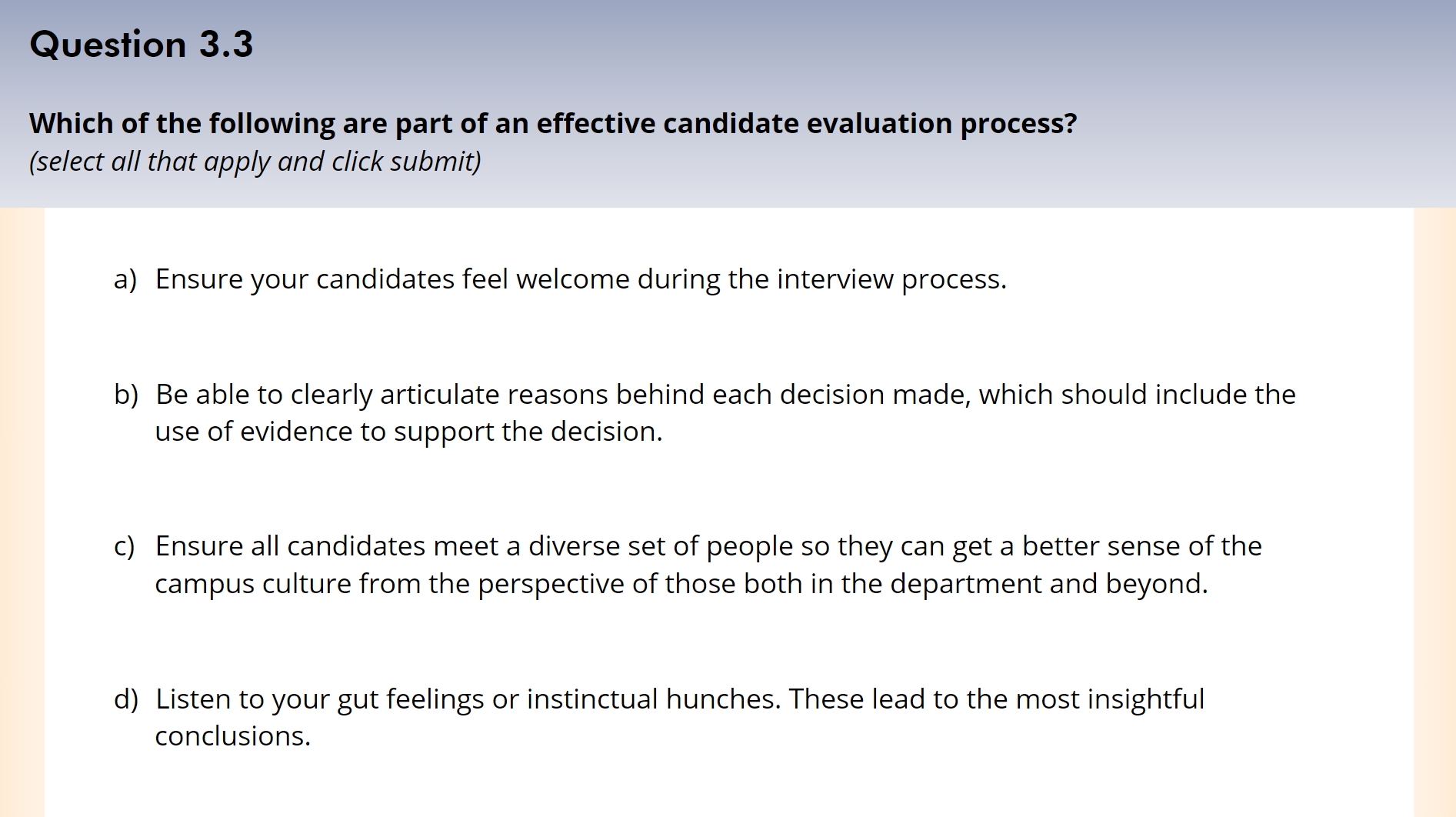 Accessibility
I collaborated with CSUF's IT Department, Employee Training Center, and Disability Support Services to ensure all e-Learning followed accessibility requirements and launched smoothly on CSUF's LMS, Canvas. The following contributed to Section 508 compliance.
• color contrast for text
• images include alt text
• text transcript is available for all audio on each screen
• closed-captioning is available for all audio on each screen
• alternate text-only version Word document of the entire module
• focus/tab order is optimized and intuitive for screen readers and keyboard-only users
Additional Features (screenshots)
The GLOSSARY tab lists key terms found throughout the module.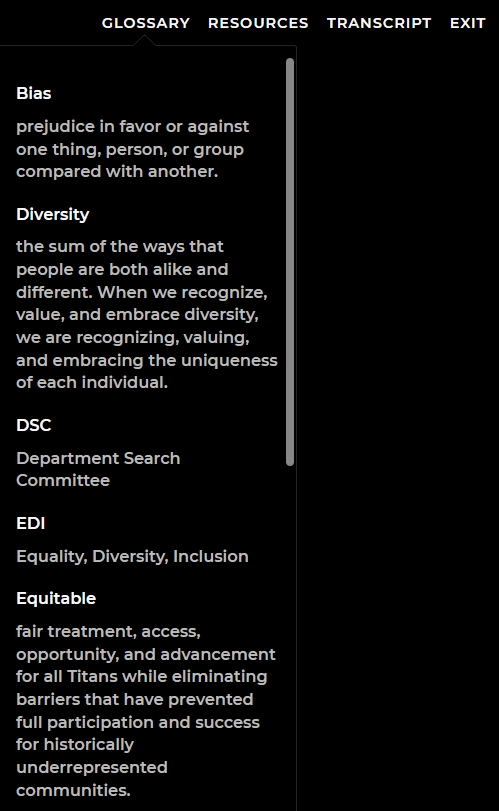 The RESOURCES tab includes helpful links and documents referenced in the module.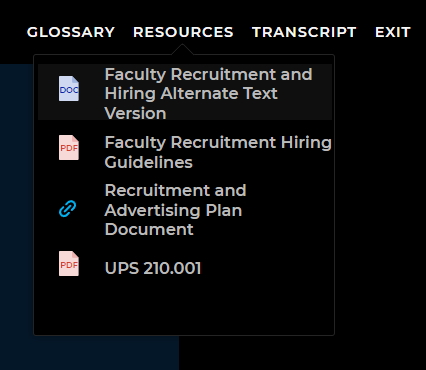 The TRANSCRIPT tab displays the audio content in text form.